I don't know about your area, but the summer season seemed to linger longer than normal around here.  But fall weather has finally arrived, and winter is never far behind.   It's time to start thinking about winterizing your home, and that includes your outdoor spaces.
Depending on where you live, the winter months often bring severe weather conditions, including freezing temperatures, excess moisture, and snow and ice, which can be damaging to your fences, decks, and other outdoor wood structures.  If you don't protect your investment before those conditions set in, small problems can become much larger (and more expensive!) issues with the spring thaw.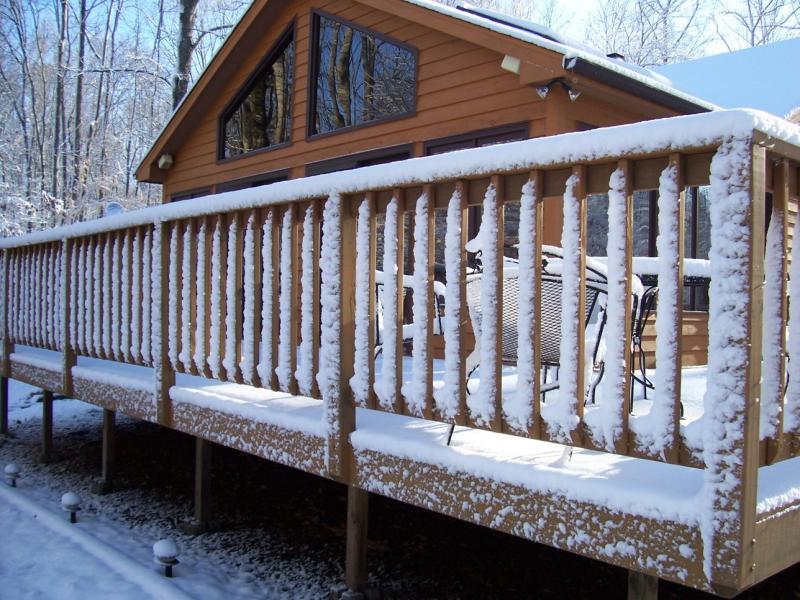 Here are some recommendations on how to reduce the effects of the harsh winter weather on your outdoor wood structures:
Survey your property for any trees or branches hanging over your fence or deck that could potentially be affected by ice build-up, and trim those back to avoid damage that could be caused if they were to snap and fall on your structure.

Sweep and remove leaves, dirt, pine needles, food, pet hair, and any other debris that has accumulated over the last season.

Give the wood a good cleaning.   Power-washing is okay, but can damage the wood's surface if the pressure is too high.  Instead, we generally recommend using a household bleach/water solution (25% bleach, 75% water), spray it on the wood lightly, let it set for 15-20 minutes, then rinse it off with a garden hose.  This serves to remove stains and kill any mold, mildew, or algae that may have built up on/in the wood.
Allow the wood to dry completely, which may take days or weeks, depending on where you live and the weather conditions.  This is a critical step before moving on.  We highly encourage the use of a moisture meter ($20-$30 at your local hardware store or online outlets) to accurately gauge the moisture content of the wood.  You want that moisture reading to be 12% or less (15% if you are in a high-humidity area).
Apply a high-quality wood sealer, which will protect the wood from the excessive moisture that is common in the winter months.
Ready Seal is a professional-grade stain and sealer in one that would afford your wood structure exceptional protection, while also beautifying the wood.   Available in 7 natural tones, Ready Seal will enhance and beautify your wood, while offering maximum protection during the wet and often harsh conditions of the winter.
If the structure had Ready Seal on it previously, or if you are starting from bare wood to begin with, follow all of the above steps and finish with two light coats of Ready Seal.
However, if there was another product or coating on the wood previously, and you want to use Ready Seal, the previous coating needs to be removed completely (may require chemical stripping) to get down to bare wood, then you can follow the above steps as noted.  
And for all future re-applications of Ready Seal, no sanding or stripping is required, just lightly clean, dry, and re-apply.
Even though our outdoor spaces are not in use as much during the colder months, taking the time to protect them now will prolong the life of your structures, reduce the chance of costly repairs, and usher in the spring months with beautiful wood that is ready to welcome you back to outdoor living.