Wood decks can be an idyllic spot to enjoy outdoor activities with your family or entertain guests. With good craftsmanship and the right accompanying furniture and décor, your wood deck can be an aesthetically pleasing area in your home.
However, dirt, outdoor debris, and other signs of wear and tear can affect the visual quality of your home's outdoor appearance. It can also make your deck a less relaxing place to chill out with your family and friends. However, you don't need to spend hundreds of dollars on professional cleaners – especially when you can properly clean a wood deck.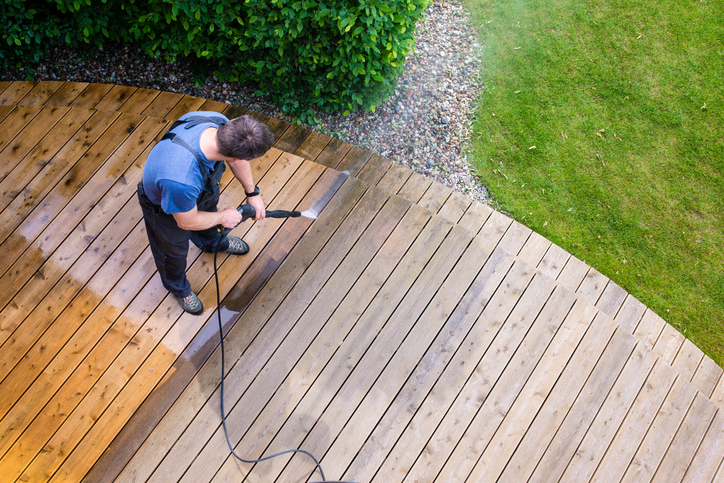 Steps on How to Wash a Deck
It's recommended that you clean your deck regularly to maintain its aesthetic appeal. For thorough deck cleaning like this, you should get it done at least once a year. The washing, sealing, and wood staining process can take several days, so try to schedule your deck washing when it's least likely to rain.
Here's how to perform a thorough deck washing on your own with cleaning supplies you may already have at home.
1. Remove Any Furniture or Items on the Deck
You'll want to perform a very thorough deck cleaning at least once a year, so you'll want to make sure that every part of your wood deck is accessible to you. Remove any furniture, decor, grills, plants and any other item that's on your deck. You'll want your space to be as empty as possible, so unscrew or unfasten anything that can easily be removed from your deck.
Before your deck washing starts, now is a good time to inspect your deck for any signs of damage. Check for rotting wood, missing screws, or any loose fasteners that need replacement or repairs. If you've added sealers or your wood is pre-sealed correctly, there should be little to no mold or mildew on your wood.
2. Sweep the Deck
Use a broom to sweep away the leaves, dirt, and dust on your deck. This will make it easier later for you to add a cleaning solution to your deck. It also reduces the amount of dirt and dust that gets wiped along with the cleaning solution, allowing you a cleaner finish as the solution only has to deal with the finer particles stuck to your deck.
Using a putty knife, screwdriver or anything that can fit in between your boards, remove any debris stuck in between. You can also use a vacuum cleaner for small debris if you have one with a small mouth and powerful suction. This helps give your final cleaning a neat appearance.
3. Prepare Your Wood and Deck Cleaner
You can use any of the following cleaning products on your wooden deck:
Wood-safe cleaner
Deck cleaner (make sure it's safe for wood)
Oxygen bleach products
Laundry detergent (especially detergent products made with sodium percarbonate or sodium perborate)
You can also make your own DIY wooden deck cleaner. This can be safer for your plants if you have any greenery planted around your deck as it's biodegradable. Here are some combinations you can use with different household items you can find at home.
Mix equal parts of vinegar and baking soda.
Mix the following in a bucket:

2 gallons of water
2 cups of oxygen bleach
¼ cup of liquid dish soap
For equipment, you can use either a brush with a long handle and a hose or use a power washer with a soap attachment for a faster and more efficient deck cleaning.
Precautions:
If you're making your own cleaning solution, avoid mixing ammonia with bleach. Mixing these two together can create toxic gasses called chloramines, which can cause respiratory issues.
Always wear gloves when handling cleaning products to avoid skin irritation.
If you're using a power washer, avoid adding your homemade cleaner into the washer. The granules in some cleaners can clog and destroy your nozzle. Instead, apply your cleaner directly to the deck and use a regular hose to rinse.
If you're using a power washer, avoid using the higher settings or spraying too close to the wood to avoid damage.
4. Pre-Rinse Your Deck
Pre-rinsing your wood deck removes more of the loose debris that wasn't removed during the sweeping step. This will also make it easier to apply your cleaning solution and spread it on your deck. Using a hose or your power washer, use water to rinse the deck.
5. Give Your Deck a Wash
Apply your store-bought or homemade cleaner. For store-bought deck cleaners, use them as instructed on your deck. For homemade cleaners, you may have to let it sit for a few minutes to help the ingredients loosen any stubborn debris on your boards.
Next, using your brush, scrub your cleaner onto the boards. Let it soak for a while before rinsing it. If you're using a hose, clean your brush and use it to scrub away any remaining cleaner residue. If you're using a power washer, it should remove the cleaner from your boards.
6. Use Sealers and Stains
It is important to wait for your boards to dry completely before staining or sealing.. This can take 24 to 48 hours, or even longer. Temperature, humidity, overnight rain showers and morning dew can all affect the dry time and moisture content. If using Ready Seal, the wood must be 12% moisture or less to ensure the oil-based product can penetrate into the wood as intended. You should use a wood moisture meter to make sure your moisture content is where it needs to be.
If using other products, you may consider lightly sanding your boards to remove any remaining dirt and residue once it is dry. However, if you plan to use Ready Seal, sanding is not recommended, as it closes the pores of the wood, preventing Ready Seal from penetrating in as deeply as it should. Once your cleaning, drying, and prep is done, you can use a brush, a paint roller, sponge, or sprayer to apply stain and sealer to the boards.
Enhance Your Deck's Appeal with Ready Seal
With Ready Seal Wood Stain and Sealer, you can finish up your deck staining and sealing process through an easy one-step application. Our products require no primer, diluting, thinning, or any additional steps – simply apply our products to your deck, but be careful not to over-apply. When prepped and applied correctly according to Ready Seal's recommendations, there are no laps, no runs, no streaks, and no backbrushing required. This is the Goof-Proof™ solution for homeowners who want the best results for their outdoor wooden fixtures.
Find a store near you today to get your professional-grade wood stain and sealer.
Check out Ready Seal's wood prep and application recommendations HERE.
Have Questions About Ready Seal Products?