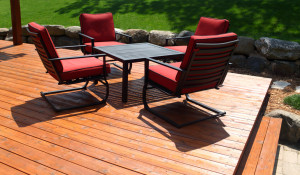 Many people find their outdoor deck to be their favorites parts of their homes, especially when the weather is nice. Decks offer a tremendous value for how much they cost, and a well-maintained outdoor deck can last for decades. However, decks are also susceptible to both short- and long-term threats, and failing to provide proper protection can lead to problems down the road. Here are a few guidelines for protecting your outdoor deck.
Structural Components are Essential
Although decks are typically safe to use, it's important to ensure they're properly supported. It's best to begin this process before building the deck, as doing to can save money. Relying on expert plans can help ensure that your deck's structure is made to last, so having an expert take a look at your plans can help. It can also help to bring in an expert to make sure you're using the right supplies. If your deck is already built, examine its supporting materials to make sure everything is properly secured.
Rot and Termites
Wood is an excellent building material, and, if properly maintained, it can last for an indefinite period of time. However, wood is susceptible to a number of threats, rot being among the most dangerous. Try to make sure your deck does not rest in standing water for extended periods of time. Schedule regular inspections where you examine your deck for signs of rot, which is much easier to fix if detected early. Make sure you keep up to date with your termite inspections, as infestations can grow quickly if not caught in time.
Wood Protection Ensures Longevity
If your deck is properly protected against structural issues, you'll want to seal the wood effectively to prevent everyday wear and tear. A high-quality stain serves as a fundamental element of outdoor deck protection, and Ready Seal is a durable and attractive stain that can transform your deck's look. Make sure you use Ready Seal Stain & Sealant, which provides excellent outdoor deck protection by preventing water from saturating your deck during rainy and snowy seasons.
Regular Cleaning
Since our decks are outdoors, it can be easy to neglect basic cleaning we perform indoors for extended periods of time. Doing so, however, can cause a number of problems. Some materials can cause stains if left in place, so a critical element of outdoor deck protection is regular sweeping. We often use decks for cooking meals and grilling, so make sure to clean up after eating. Food scraps and other items can also attract animals, so make sure you don't leave anything that might entice unwanted visitors.
Be Careful With Railings
Some parts of decks are more susceptible to problems than others, and railings are potentially dangerous if they're not protected properly. Check the screws and nails that hold railing in place regularly, and promptly replace any that have shifted due to temperature changes. Make sure your railing wobbles as little as possible, and replace any that seems to move more than usual. While protecting your deck is important, protecting those who use it is essential as well, and railing presents a possible safety threat.
Your deck can serve as a great gathering place for friends and family members, and it can work wonders as an outdoor oasis. While decks don't require extensive maintenance, it is important to make sure you're maintaining your deck as well as possible. Fortunately, a bit of regular work can go a long way to ensures you deck's longevity.