Most contractors and homeowners agree: Wood, whether hardwood, pressure-treated or cedar, is the most popular material used for decks. Wood is aesthetically appealing, durable, easy to maintain and cost-efficient. However, to keep your wood deck in top condition for longer and protect it against the elements, it may be a good idea to stain your deck.
Deck staining can be done by a professional or as a weekend DIY project. However, a common question that pops up among homeowners who wish to do it themselves is: how long for the stain to dry before it can be safely exposed to rain?
Generally, it takes anywhere between four hours to 24 hours. However, the exact answer will depend on various factors, such as the type of deck stain you use and the weather conditions when you stain your deck.
Types of Deck Stains
The type of stain you use on your deck impacts the amount of time it would need to dry before it becomes water-resistant and, thus, rain-proof.
There are two main types:
Oil-based or alkyd deck stains have been around for decades, and they remain popular due to their natural water-repellant properties and their ability to:
Penetrate the wood grain
Condition wood, preventing cracking or warping
Prevent mold and fungus growth
Most oil-based stains must dry for at least 12 hours before they are exposed to any moisture/rain; however, Ready Seal, if properly applied to prepped and dried wood, can get wet within a couple of hours, and it won't wash away. Oil-based stains will generally take 24-72 hours to fully cure.
Water-based stains don't penetrate wood as well as oil-based stains, and they generally cost more. However, they do have other advantages over their oil-based counterparts. Water-based stains are:
Easy to clean with just soap and water
Low maintenance
More eco-friendly than oil-based stains, as they have low levels of volatile organic compounds (VOCs)
They also dry faster, especially in warm and sunny weather conditions. It's safe for a water-based deck stain to be exposed to rain as long as it has fully dried, which can take one to 24 hours. However, it must cure for up to 72 hours before you can walk on it or place any furniture on it.
How Long for the Stain to Dry in Warm, Sunny Weather?
Both oil-based and water-based deck stains are best applied during optimal conditions. For example, if it's sunny and warm, you can expect the stain to dry within an hour or two.
However, remember that the deck stain might dry too fast if it's too hot. This may result in unsightly "lap marks" or patches of stain that are different in color and sheen. For oil-based stains, weather that is too hot can result in poor adhesion, uneven penetration into the wood and a blotchy finish.
As a rule of thumb, avoid staining your deck if the temperature is above 90 degrees Fahrenheit. It's also advised to only stain your deck when the relative humidity is between 40 percent and 70 percent. This is because very humid and hot weather can lengthen the drying time due to the added moisture in the wood and the stain.
How Long for the Stain to Dry in Winter?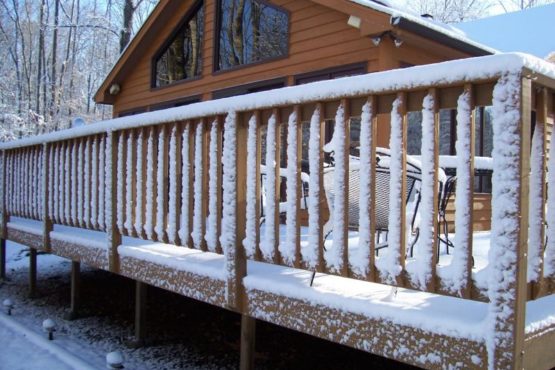 Avoid staining your deck in the colder months. Contractors and veteran DIYers do not apply deck stain if it's below 50 degrees Fahrenheit, as the cold temperature can prolong the drying time. Before applying the deck stain, check the weather forecast to ensure that it doesn't snow and temperatures don't drop further later in the day.
Very cold temperatures below 32 degrees Fahrenheit can negatively impact the curing process. Oil-based stains may not be able to penetrate the wood property, and water-based stains may not adhere to the deck's surface fully.
When Is the Best Time to Stain Your Deck?
To summarize, the best time to stain your deck to ensure fast drying, proper adhesion and a beautiful finish is when the following conditions are met:
The temperature is below 90 degrees Fahrenheit and above 50 degrees Fahrenheit
Rain, snow and strong winds are not in the forecast
The humidity is low
Rain After Staining Deck: What Can Happen?
What if, despite all your precautions, it rained on your deck before it has dried?
If it was only a drizzle, your deck might not be damaged. However, a prolonged downpour may result in the water seeping into the wood and forcing out the stain. Instead of an evenly stained, attractive deck, you'll likely end up with one that has uneven patches and white spots. If it rained right after you stained your deck, you might notice peeling or flaking.
Rain After Staining Deck: What You Can Do
Once the rain has passed and your deck is completely dry, assess your deck for the signs of damage mentioned in the previous section. If the stain has peeled or is flaking in areas, you will likely need to sand the deck again and reapply the stain. Be sure to follow the stain manufacturer's directions for applying a recoat.
Depending on how widespread the damage is, it might be possible to fix white spots, blotchiness and patches by applying a light coat of stain on areas that are lighter in color. This helps make the color look more uniform.
Best Practices for Staining an Outdoor Deck
While staining your deck yourself might take some time, it's worth the effort. Applying a quality stain on your deck enhances its appearance. It prolongs its life by protecting it against harsh weather, moisture and wood rot caused by insect infestations, mold or mildew.
Apart from making sure the weather is fine before you start staining your deck, there are other things you can do to ensure excellent results. The following are some great tips for staining a wood deck.
1. Prep the Deck
Before you stain your deck, make sure to clean it well. This goes for both new decks and older ones.
Inspect the deck for exposed screws and nails and address these issues before you clean the deck. You can pull up old nails and replace them with deck screws. However, keep in mind that nails and screws might be protruding out of the deck because the boards are warping. If this is the case, you'll need to check for and replace damaged boards.
Remove mill glaze, the shiny film that forms on wood after it goes through a planer, using a cleaner or stripper. Make sure to get rid of dirt, glue and other debris, so they don't get sealed into the wood when you apply the stain. Next, sweep or vacuum the deck, and don't forget the gaps between the boards—an old putty knife or a hook inserted into the end of a broom will work for this.
A pressure washer will make cleaning easier, but let the wood dry for two or three days before you stain it.
Contrary to popular belief, you don't have to sand your wooden deck. In fact, our experts at Ready Seal advise against it, as sanding can close the wood's pores and make it harder for the stain to penetrate.
However, if your deck boards have lumps and bumps and sanding is a must, use 60- or 80-grit sandpaper. If you have a large deck, you might want to rent an orbital floor sander. Since it can sand up to four boards at a time, it will save you time and effort as well as keep you off your hands and knees. You can clean the wood with a light bleach water solution, as this helps remove wood dust and reopen the wood pores. Make sure that the wood is completely dry before you apply the stain.
2. Use the Right Tools
You can use a sprayer, brush or roller to apply deck stain. Both options have pros and cons, but most professionals swear by rollers. A roller is user-friendly and allows you to cover more surface area in less time than brushes. It also helps ensure a smooth finish.
Since it's smaller, a brush gives you more control over the application and allows you to apply stain on crooks and crannies. The back-and-forth motion of the brush also allows stain to penetrate deeper into the wood.
A sprayer covers even more surface area than a roller, and it offers the added benefit of getting stain in hard-to-reach areas like brushes. However, using a low-pressure setting is critical to avoid over spraying—but not too low that you end up under spraying. Finding and keeping this balance may be difficult for beginners.
If you're going to use a sprayer, consider staining your deck on a still day, as even a slight gust of wind can carry the stain particles away from the intended application area, resulting in an uneven finish.
3. Apply a High-Quality Wood Stain
A high-quality wood stain might cost a little more than the generic ones you can get at any hardware store, but it also delivers more in terms of longevity, quality and protection against the elements. Also, some cheaper stains emit toxic fumes that may harm your health, while others crack, flake or change color over time.
Ready Seal is the ideal choice for those who want an easy-to-apply stain that leaves a beautiful, long-lasting finish. It offers a wood stain and sealer all in one, saving you time and ensuring a stress-free application. What's more, Ready Seal offers a Goof-Proof™ process.
Ready Seal's stain and sealer for wood offers the following benefits:
No primer required
No wet-line application required
Won't leave runs, streaks or lap marks
Doesn't need thinning or diluting
It can be brushed, rolled or spray
It can be applied no matter what the temperature is outside
It can be reapplied over old/existing coatings of Ready Seal
It's VOC-compliant, containing less than the maximum content of VOCs allowed by the federal government
The stain contains transoxide pigments that are highly resistant to UV rays for excellent sun protection
You can choose from a wide variety of colors to enhance your deck's natural hue
Enhance the Beauty and Lengthen the Service Life of Your Deck With Ready Seal
Prevention is better than cure: Scheduling your deck staining project for a warm, dry day and following our tips will help prevent you from wasting time and resources on re-sanding and recoating your deck.
For more deck staining tips and tricks, check out the Ready Seal blog. You can also use our Store Locator to find Ready Seal products for sale near you.
Have Questions About Ready Seal Products?